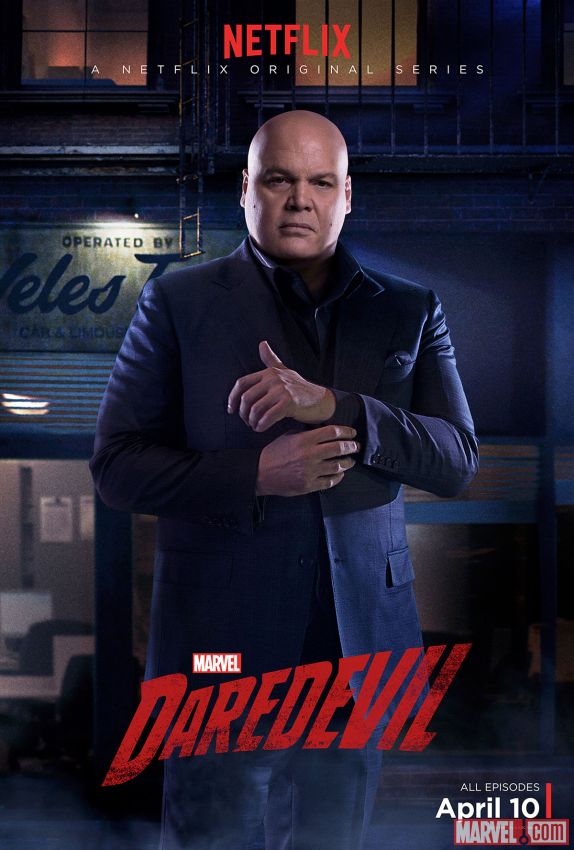 The problem with superhero stories is making them convincing. Sure, that's not a problem when you're entertaining a drooling fan like me with big spectacle like Guardians of the Galaxy. But when you're aiming to create something low key, or to draw in a bigger audience, that's more difficult. It's a challenge any genre writer will face if they want to reach plenty of readers, and so it's interesting to see how Marvel and Netflix's recent TV show Daredevil has handled this.
In my view, there's one small element that's incredibly telling.
Superheroes in New York? Yeah Right.
First, lets give a bit of context, because none of what I'm going to say will make sense without it.
The nature of the superhero Daredevil, aside from being the blind martial artist with super senses, is that he sits on the boundary between two worlds. He exists within a huge universe of superpowered characters in a sprawling interconnected epic of comics / films and TV shows. But he also exists as a street level hero fighting crime in Hell's Kitchen, a neighbourhood of New York.
This sets up one really obvious problem for Daredevil as a TV show. How do you reference that superhero universe while not making it sound absurd in the context of a gritty crime story?
But there's another problem, one I discovered reading The Devil is in the Details, a book of essays on Daredevil. Hell's Kitchen, which was a run down neighbourhood when Daredevil was created half a century ago, has become gentrified. As a setting for a gritty crime drama, it doesn't work as well as it once did.
Given both of those challenges, how do you put the screen Daredevil in context?
Less is More
The answer, as shown in the first couple of episodes, is by bringing those two problems together and then applying some subtlety.
Almost the only link that the show directly makes to the Marvel universe, in its early episodes at least, is to reference the huge damage done to New York in The Avengers. They don't talk about what the destruction was, thus avoiding tackling a world of Norse gods and super soldiers, but by referencing the destruction they let fans see that the Marvel Universe has affected these people's lives. It's the same trick that British TV show Ultraviolet used for its vampires – if you avoid using the word 'vampire' or 'superhero', and just include its implications, you can skirt around the potential absurdity.
This reference is also how they deal with Hell's Kitchen. Thanks to the destruction done in New York, Hell's Kitchen is a dump again. Hey presto, in a couple of lines they've tackled both of their biggest problems, and given the story a rich contextual background.
That, in my opinion, is some clever writing. A lot of thought and time clearly went into crafting a few seconds of dialogue, and it was well worth it. We could all learn from it.
If you haven't already, then I really recommend watching Daredevil. It features some great writing and acting, a number of good fight scenes and at least one really imaginative one. It comes with a big warning though – it is really not for the squeamish, taking the Marvel tone as far from Guardians of the Galaxy as it can get.
And if you're into superheroes or want to know more about Daredevil I heartily recommend The Devil is in the Details. It includes some fascinating essays, including one on the old question of how plausible his superpowers are.