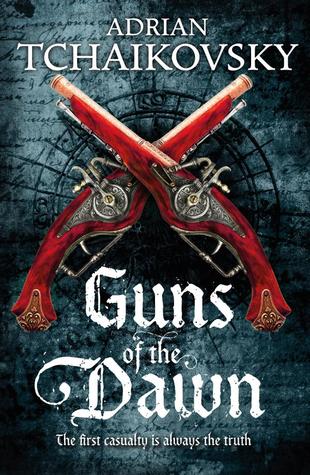 I've been looking forward to reading Guns of the Dawn since listening to its author Adrian Tchaikovsky read from it at FantasyCon last year. Combining black powder fantasy with a war story and an exploration of gender roles, it hits a lot of themes that interest me. And as it turned out, it was even more interesting than I expected.
Revolutionary War is Hell
Guns of the Dawn is set in a fantasy world with late 18th century technology and politics, in which one nation has overthrown its monarchy in a bloody revolution and its neighbour is invading in defence of the old order. As the war against revolutionary Denland grinds brutally on, neighbouring Lascanne is running out of soldiers to fight with. Emily Marshwic becomes part of a first wave of female conscripts, desperately trying to defend their country from their regicidal neighbours.
Except that, as the cover says, 'the first casualty is always the truth', and the rights and wrongs of this conflict are far from clear.
Half the book's action takes place in a brutal battle for control of a stretch of swamp. It's a good example of fantasy world building that draws from different parts of history, with the technology of the Napoleonic Wars, the exhausting jungle warfare of Vietnam, and the issues of mass conscription that marked the First World War. This jamming together of historical elements shows one of the great advantages of using fantasy over historical fiction – looking at how elements from different historical periods might combine. It's a great piece of world building, and really hammers home the horrors of war.
Now for Some Jane Austen
The dark experience at the heart of the book is made all the more striking for being framed by Emily's pre- and post-war experience. Hers is a genteel life like something out of Jane Austen, leaving her unprepared to become a soldier. As well as making the war all the darker by contrast, this acts as a reminder that such a privileged life is often made possible only by the suffering and struggles of others.
Jane Austen's characters existed in the same world where Napoleon was conquering most of Europe. These two elements, often seen apart, combine to make a fascinating contrast.
Dawn of the Guns
There are plenty of other things about this book that I could enthuse about. The characters follow familiar tropes, but are given enough depth to make them enjoyably familiar rather than tedious clichés. The way magic fits into the social and political hierarchy hints at some fascinating possibilities. The atmosphere of the the military campaign, and the psychology of people unable to face the truth, are brought vividly to life.
But one of my favourite details is a technological one. During the fighting in the swamps it becomes clear that the Denlanders have special guns which are giving them an advantage. When the truth eventually comes out it's a clever use of real historical technology, showing how researching the real world can make imagined worlds stronger.