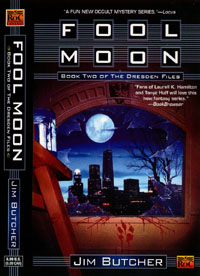 I like a deep, solid book. The twisted literary architecture of Gormenghast. The brief, stunning beauty of The Great Gatsby. But sometimes I want something pacey and enjoyable, something that provides the sort of accessible action long associated with pulp fiction. And that's what drew me into the second of Jim Butcher's Dresden Files books, Fool Moon.
Urban Fantasy Chicago Style
Fool Moon is a product of a very modern genre – urban fantasy. The protagonist, Harry Dresden, is a wizard for hire in modern Chicago, balancing his struggling finances with his noble instincts through work for the police force. When a series of brutal murders show every sign of being committed by werewolves, Dresden becomes part of the investigation. Soon there are monsters, gangsters and even the police on his tale, and all he has to save him is a gun, a magic amulet and his trusty posing coat.
OK, he doesn't call it a posing coat, but we all know that's what long coats are for. Sherlock doesn't have his because it's practical, he has it because it looks damn cool.
I haven't read much urban fantasy, but to me Butcher seems to do a good job of combining the elements of modern life and fantasy adventure. The workings of the police, criminals and local politics aren't just background, they're integral to the plot. The monsters and magic aren't just added colour for a detective story, they're also central. Together, these make a fascinating mix.
The Unchanging Adventurer
Fool Moon also dips into an older literary tradition – that of the pulp serials, escapist fiction in which action is prioritised over character progress.
I wrote a while back about how you might structure such a serial, and it's reassuring to find that Butcher, one of the most successful writers in this style, uses many of those tricks. The illusion of progress is created by setting Harry Dresden back at the start of the story, so that when things come good at the end it seems like a step forward, even though he's essentially where he was at the start of the last book. There's a romance that similarly jumps through positive and negative hoops before ending up back where it was. There's an ongoing villain in the form of gangster Johnny Marconi, as well as immediate menaces who appear and are dealt with within this one book.
Harry Dresden's life doesn't need to change for his adventures to be entertaining. Which is a good thing, because Dresden as a character seems as resistant to change as his world. Butcher has done a great job of creating a character whose looping life makes sense.
All the Clichés!
Lets be clear – none of the elements in this book are terribly original in and of themselves. From the noire-style succession of hot ladies in Harry's life, to the gangster the law can't touch, to the eventual solution hung in pride of place like Chekhov's Gun at the start of the story.
To me, this isn't a story with a deep message or something new to say. But it's a lot of fun, and worth it for that.
Bonus points go to the audiobook of it I listened to, which had James Marsters doing the reading. He suits the story very well, and mercifully doesn't have to revive his British accent from his days on Buffy the Vampire Slayer.