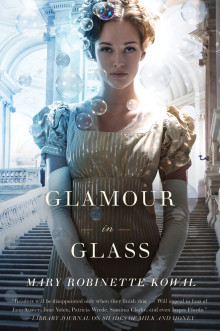 Sometimes picking the protagonist for a story is easy. Your whole idea is built around a particular character, so you just go ahead and write them. Sometimes though it's harder. You have an idea you want to explore, or a world, or you have part of what you want the character to be like, but not the whole package. So how do you pick the person at the centre of your story?
Mary Robinette Kowal offered some great guidance on this in an episode of Writing Excuses, my favourite source of writing guidance. She said that she thinks about the setting she's created and who can be most hurt by the things that are different about it, then uses that as the starting point for the protagonist. It means that there's instantly something at stake for the character and a sense of conflict inherent to the situation, ready to drive a story.
I was thinking about this as I read Glamour in Glass, the second book in Kowal's Glamourist Histories series. You might think that in a magical Regency era there are more vulnerable characters than an upper class lady like Jane, the protagonist. But the setting isn't just Regency England – it's the upper class society of Regency England, and specifically the world of people using glamour magic within that. Once you view that as the setting, she's the perfect choice. Her family's well being and standing in their community is very dependent on who Jane and her sister marry, and Jane's character and attachments put her at a marital disadvantage in the first book, Shades of Milk & Honey. Being a woman in an incredibly patriarchal society makes her vulnerable to the decisions and manipulations of others. And the exhausting price of using glamour sometimes puts her health at risk.
In the second book there's even more at stake. Jane is a foreigner in a country in turmoil, someone seen as an enemy by the army threatening to descend on Belgium. Her husband is entangled in local events in ways she doesn't know about, and not being trusted with information for essentially sexist reasons puts her at risk. The nature of glamour means that pregnant women cannot use this magic without risking the unborn child, meaning that she is heading towards a choice between losing the craft that gives her happiness and losing the chance to have a family. From this beginning the stakes are raised in a way that builds around Jane's character, and eventually forces heartbreaking choices on her.
Like any advice, this way of picking a protagonist isn't an absolute. When I wrote 'Sunflowers in the Snow', last Friday's story on this blog, I didn't pick the people most hurt by the events I was portraying – the cloned Neanderthal community being excluded from human society. This was partly because I didn't feel I had time within a very short story to build up their unique perspective. But it was also because a story needs a character who can have a transformative arc, and the Neanderthals were already in the place emotionally where I wanted the story to end. So I took someone who appears to be in a position of privilege, but whose values, power and principles are about to be put into conflict, and used him. It was someone who was being badly hurt by the situation, but not the most hurt.
And there are cases where I ignore this entirely. Dirk Dynamo and Timothy Blaze-Simms, the adventurer heroes of my Epiphany Club stories, definitely don't start out from a place of peril. Similarly the stars of this coming Friday's flash story were chosen out of necessity for that plot, not an approach I'd take for a longer work. As Terry Pratchett wrote, rules are there so that we think before we break them.
Have a think about your favourite protagonists. Are they inherently vulnerable or at odds with the world they live in? How so? And if you're a writer, how do you pick your central characters? Share your thoughts in the comments.
And if you'd like to see some other examples of how I put this into practice, please consider buying one of my ebook anthologies.